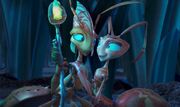 First Met: Before The Ant Bully
Status: Boyfriend and Girlfriend; In love, They live together, Fought together for the ants in their colony.

This is the sweet, romantic relationship between ants Hova and Zoc. Zoc and Hova were in a romantic relationship prior to the film's events. They were also committed to each other, living together, and even had a pet firefly. They fought throughout the film about Hova's relationship with Lucas Nickle. However, they rekindled their romance completely and helped, with Lucas and their other friends, to fight for the survival of their ant colony.
Gallery